St. Patrick's Day Cookie Sandwiches
Prep time: 30 Minutes
Yields: 12 Cookies Sandwiches
Share: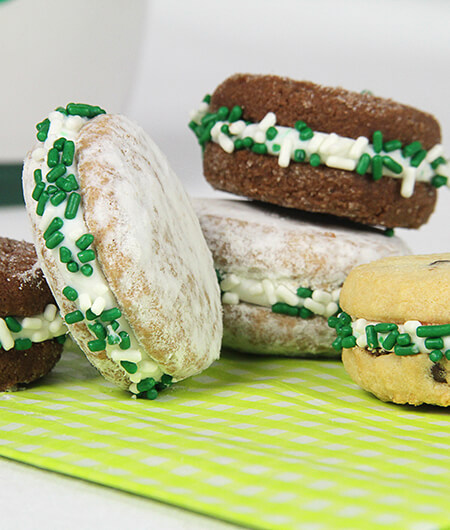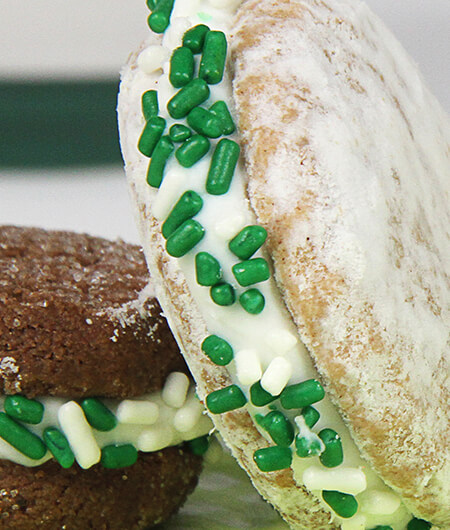 These jolly green and white St. Patrick's Day Cookie Sandwiches will have you feeling like a pot of gold!
Make like a leprechaun and follow this simple dessert decorating idea from Cake Mate®
Ingredients:
24 of your favorite cookies
1 Tube Cake Mate® White Icing
1 package Cake Mate® Decorating Tips 8-Pack
1 Bottle of Cake Mate® Leprechaun Mix (Green & White) Sprinkles
Instructions:
Step 1  Bake 24 of your favorite cookies.
Step 2  Let cookies cool completely.
Step 3  Attach the #12 decorating tip to the White Tube Icing. Cover the bottom of one cookie completely with white icing.
Step 4  Place another cookie on top to make a cookie sandwich.
Step 5  Finish by sprinkling Cake Mate® Leprechaun Mix Sprinkles all over the sides of the sandwich to cover the white icing.
Celebrate & Enjoy!