Mini King Cakes
Prep time: 20 Minutes
Yields: 5 - 6 Mini Cakes
Share: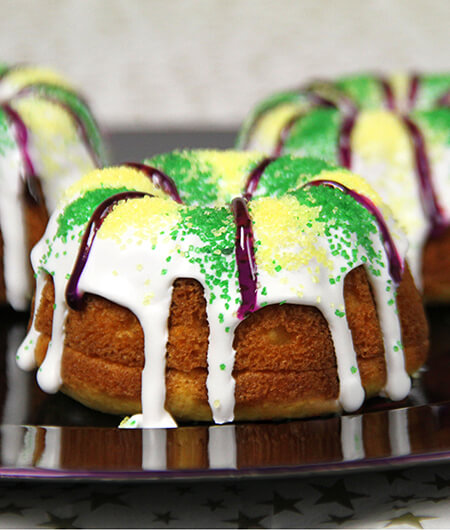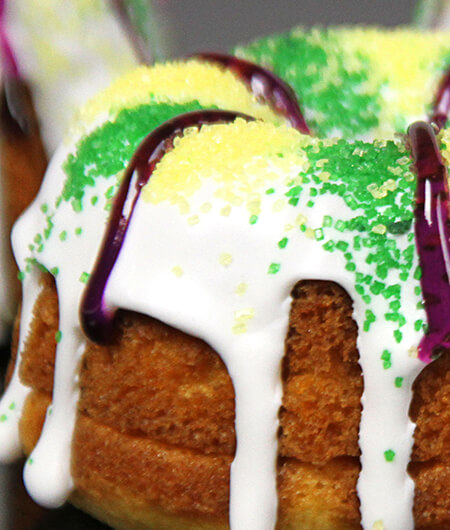 Treat your Mardi Gras party guests like royalty with this decadent dessert
Add a special touch to your favorite mini cake recipe by topping these treats with festive yellow, green and purple Cake Mate® products.
Ingredients:
5 – 6 Mini Cakes
White Cake Mate® Tube Icing
1 Bottle Cake Mate® Yellow Decorating Sugars
1 Bottle Cake Mate® Green Decorating Sugars
Purple Cake Mate® Writing Gel
Instructions:
Step 1  Bake 5 – 6 of your favorite mini cakes.
Step 2  Let mini cakes cool completely.
Step 3  Carefully drizzle Cake Mate® White Tube Icing on top of the mini cakes.
Step 4  Using the Purple Writing Gel, carefully create five thin lines around the mini cakes. There should be five segments.
Step 5  In one segment, sprinkle a pinch of Yellow Decorating Sugar followed by a pinch of Green Decorating Sugar directly next to the yellow.
Step 6  Continue the pattern by adding green and yellow sugars to each segment clockwise along the mini cakes.
Celebrate & Enjoy!