Ladybug Cookies
Prep time: 1 Hour 30 Minutes
Yields: 18 Servings
Share: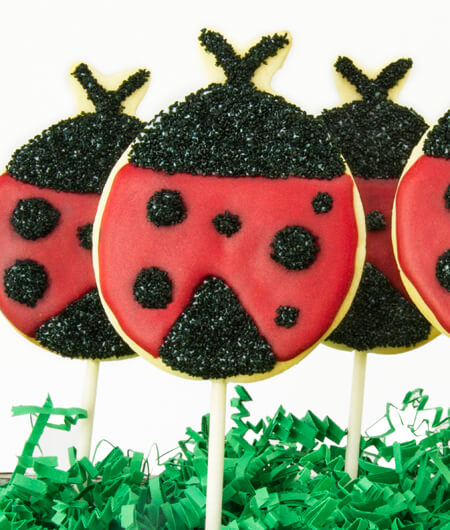 Finding a ladybug that's landed on you may be considered good luck, but so is finding some Ladybug Cookies that have landed on your plate! Cake Mate® decorations transform a simple sugar cookie into one of the prettiest, edible insects, and pop sticks make for easy carrying.
Ingredients:
1 bag Sugar Cookie Mix + ingredients to prepare
1 bottle Cake Mate® Black Sugar Décors
1 pouch Betty Crocker® Red Cookie Icing
1 pouch Betty Crocker® White Cookie Icing
18 cake or cookie pop sticks
Instructions:
STEP 1  Prepare, roll out, and cut* sugar cookies according to cut out cookie directions on package. Place cookie stick firmly into the back of the cookie prior to baking. Bake as directed.
STEP 2   When cookies have cooled, ice the red portion of the ladybugs with the Red Cookie Icing. Allow them to dry for at least 1 hour before continuing.
STEP 3  Fill the black portion of the Ladybugs with the White Cookie Icing and immediately sprinkle with Black Sugar Décors. Shake off any excess sugar onto a plate to reuse.
STEP 4  Allow cookies to dry for 4 hours before packaging or stacking.
*EXPERT TIP: A balloon or round cookie cutter may be used.
Celebrate & Enjoy!