Green Shamrock Sugar Cookies
Prep time: 30 Minutes
Yields: 12 Cookies
Share: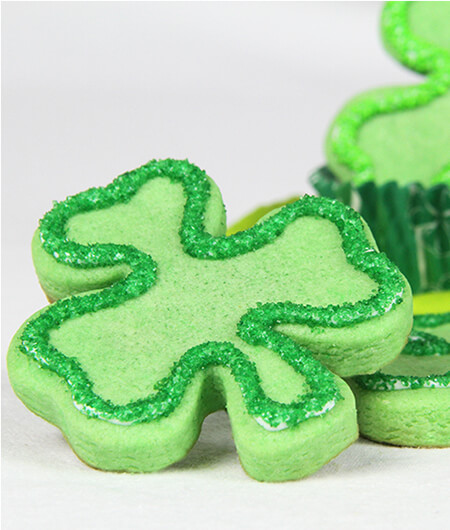 In a pinch this St. Patrick's Day? These Green Shamrock Sugar Cookies are so fast to make!
Quickly decorate these green sugar cookies with a few Cake Mate® ingredients for a rocking St. Patrick's Day dessert.
Ingredients:
12 shamrock shaped sugar cookies tinted green
1 Tube Cake Mate® White Icing
1 package Cake Mate® Decorating Tips 8-Pack
1 Bottle of Cake Mate® Green Decorating Sugars
Instructions:
Step 1  Bake 12 of your favorite shamrock shaped sugar cookies. For a festive touch, add green food coloring to your cookie dough before baking.
Step 2  Let cookies cool completely.
Step 3  Attach the #3 decorating tip to the White Tube Icing. Decorate the cookies by outlining the border with a thin border.
Step 4  Finish by sprinkling Green Decorating Sugars on top of the white icing border.
Celebrate & Enjoy!