Donut Cookies
Prep time: 20-30 Minutes
Yields: 18 - 24 Servings
Share: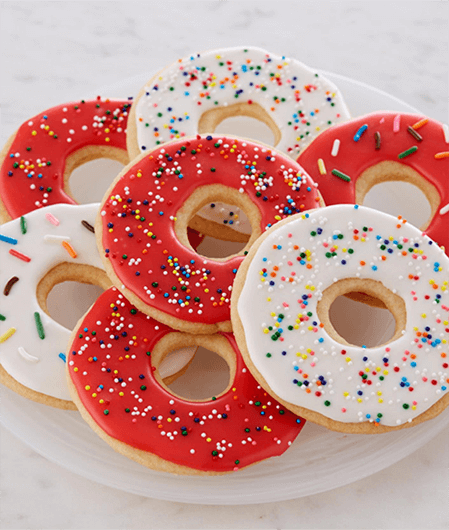 Simply Celebrate Dad with these tasty donut cookies!
Combine two of dad's favorites – cookies and donuts – into a colorful, doh'licious dessert.
Ingredients:
2 dozen of your favorite sugar cookies
1 Circle Cookie Cutter
1 Cake Mate Decorating Tip
Red Cake Mate® Cookie Icing
White Cake Mate® Cookie Icing
1 Bottle Cake Mate® Nonpareils
1 Bottle Cake Mate® Rainbow Sprinkles
Instructions:
Step 1 Roll your sugar cookie dough to about 1/4" thick. Using a Cake Mate® decorating tip, use the wide opening to remove a small center circle.
Step 2 Bake cookies and cool completely.
Step 3 Using Red and White Cake Mate® cookie Icing, cover the cookie to your liking.
Step 4 Alternating Cake Mate® Nonpareils and Rainbow sprinkles, decorate on top of the iced cookies.
Celebrate & Enjoy!