Vampire Cupcakes
Prep time: 1 Hour
Yields: 20 Cupcakes
Share: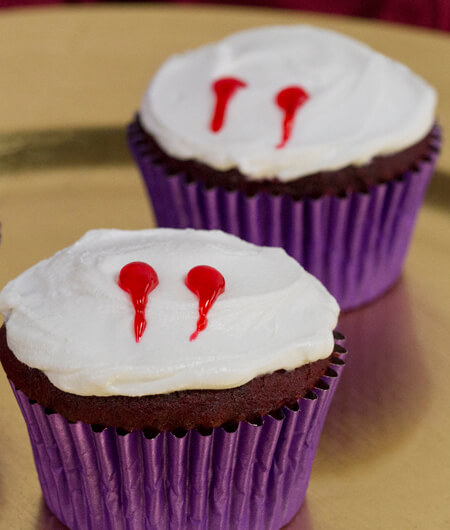 A Halloween cupcake decorating idea that's fang-tastic!
Ingredients:
1 package Cake Mix + ingredients to prepare cake
1 tube Cake Mate® Red Decorating Gel
1 package Cake Mate® No Fade Baking Cups
1 tube Betty Crocker® Red Gel Food Color
1 can Betty Crocker® White Cupcake Icing
Instructions:
STEP 1  Add all ingredients to cake mix plus the entire tube of Red Gel Food Color.  Mix and bake cupcakes in liners, according to cake mix instructions.
STEP 2   When cupcakes have completely cooled, frost with the White Cupcake Icing.  Dispense a small amount onto the cupcake and spread smooth with a spatula.
STEP 3  Cut open the tube of Red Decorating Gel and make pipe "bites" into cupcakes by applying firm pressure to start and then releasing pressure as you go down.
Celebrate & Enjoy!