Spring Flower Cupcakes
Prep time: 30 Minutes
Yields: 18 Servings
Share: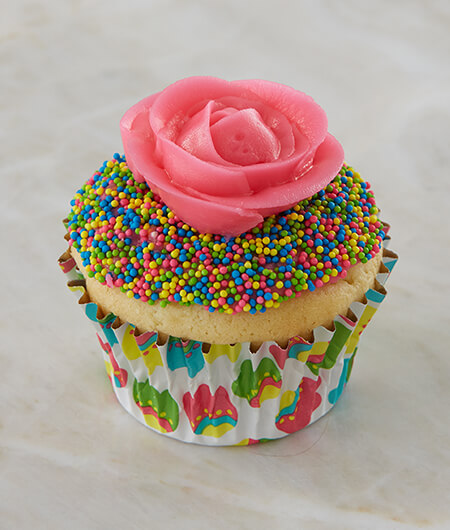 Topped with sprinkles and gorgeous pink roses, we know you'll fall in love with these Spring Flower Cupcakes!
These colorful cupcakes are ridiculously easy to make with just a few classic Cake Mate® products!
Ingredients:
1 Package Cake Mate® Tulip Cupcake Liners
1 Bottle Cake Mate® Polka Dot Nonpareils
3 Tubes Cake Mate® Pink Icing
1 Tube Cake Mate® White Icing
1 Packaging Cake Mate® Decorating Tips Variety Pack
Your Favorite Cupcake Mix
Instructions:
STEP 1 Bake your favorite flavor cupcakes in Cake Mate® Tulip Cupcake Liners.
STEP 2 Once cupcakes are cooled, spread a small amount of white icing on top of each cupcake.
STEP 3 Pour polka dot nonpareils in a small bowl, and dip each frosted cupcake into the bowl, coating the white icing.
STEP 4 Finish each cupcake with a piped rose (see instructions on decorating tips package for creating a rose).
Celebrate & Enjoy!